The Clare-Gladwin Regional Education Service District (CGRESD) Regional Information Technology Services (RITS) team is committed to planning, acquiring, deploying, and supporting the appropriate technology for all five local districts efficiently, timely, and cost-effective manner.
About us:
To achieve the goals, the CGRESD RITS team works closely with administration and business office staff; curriculum, instructional, and support staff; and facilities staff, including contractors and vendors.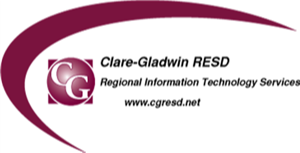 For a complete list of technology services we provide, please click the link "Programs and Services."
We provide technology services in a consortium to all 5 of our local school districts:
Beaverton Schools

Clare Public Schools

Farwell Area Schools

Gladwin Community Schools

Harrison Community Schools
Google Apps for Education (GAFE)
Bring your device (BYOD) - For details on how to connect to the school network, please click on the following link: BYOD
Technical concerns or questions: Please visit our Help Desk page.